Georgia International Convention Center
CLIENT: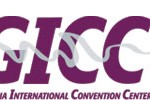 GICC – Georgia International Convention Center
PROBLEM:
Georgia International Convention Center's land was bought by Hartsfield-Jackson Atlanta International Airport to build an additional runway. GICC had bought land to build a new center and needed to promote and advertise the new look and location.
ACTION:
Design new logo, Marketing Material, advertising campaign for trade magazines
PLAN OF ACTION:
ADVERTISING:
• Design new Corporate Identity / Logo.
• Create, Design and coordinate an advertising campaign
• Conduct research on media venues, handle media placement.
MARKETING:
Design Media / Sales Kit, Marketing Brochures, Site plan, Fact Sheets.
• Coordination for a press party and event planning involving the media and press for trade publications, newspapers and television.
RESULTS:
The image and awareness campaign and branding was a success.
The Ad campaign was a success introducing the new identity and location.
This attracted more attention to the area, driving more people to use the Convention Center.